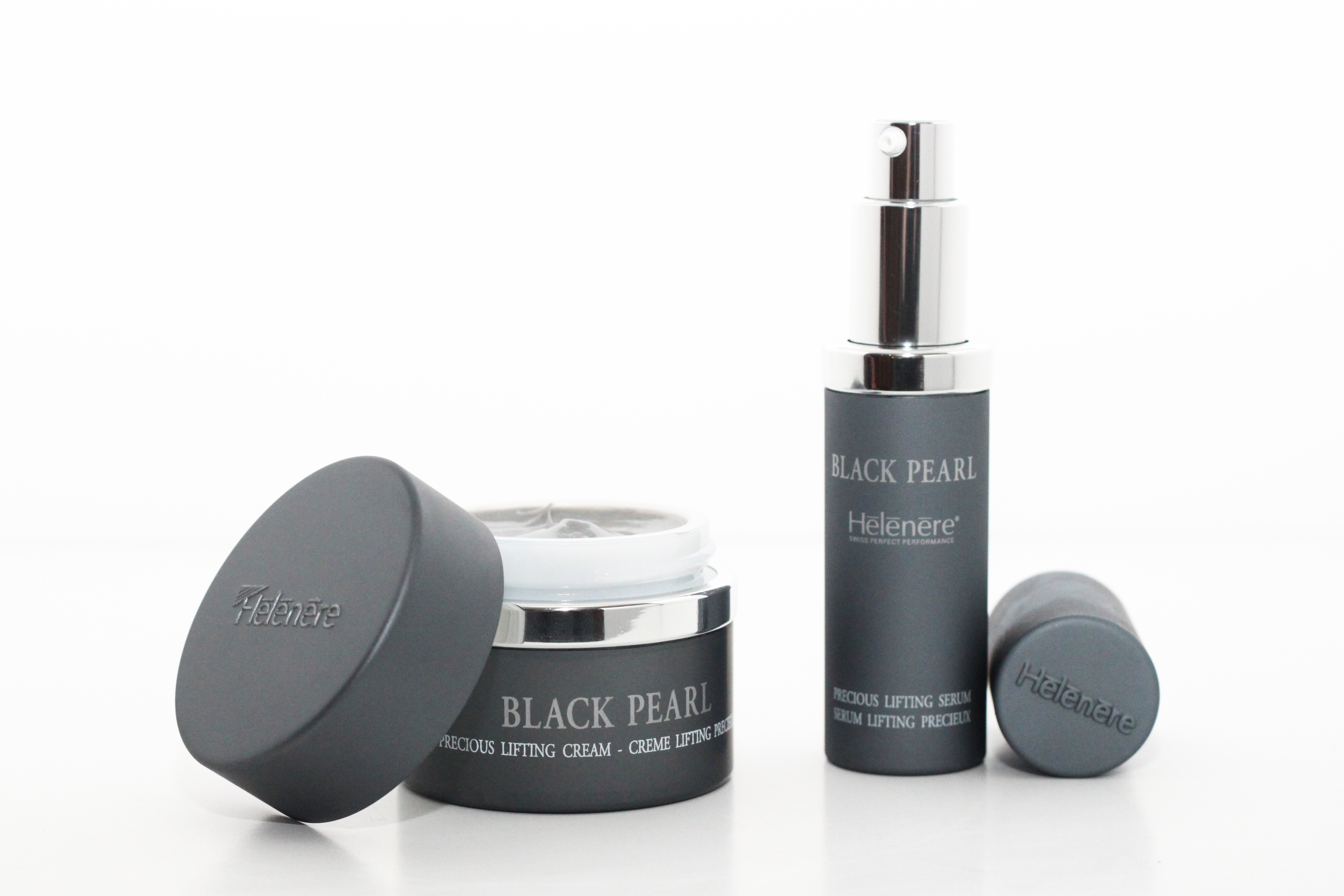 Our brand ambassador Cecelia Martine, Australian beauty expert and TV presenter, has tried for us our new exclusive Black Pearl Precious Lifting Serum and Cream:
Chinese medicine has long used powered mother-of-pearl for the treatment of different disorders and to promote wound healing, thanks to the antiseptic properties of pearl powder. At the same time, pearl powder and its extracts have been used in Asia for many centuries to preserve beauty and delay the aging process. Indeed, pearl powder can remove wrinkles and freckles and accelerate the rejuvenation of the skin.
The Helenere Black Pearl Duo, thanks to its Black Pearl extracts, brings you the gift of skin rejuvenation by including ancient beauty secrets in state-of-the-art cosmetology. While the serum penetrates deep within the skin's surface to deliver essential concentrated nutrients, the cream delivers additional nutrients and hydrates.
We well know by now what are the main causes of skin ageing: the decline in production of collagen and elastin by the skin, the action of free radicals, the loss of ability to maintain moisture etc. Nonetheless, nobody usually talks about Glycation, the process of sugar and proteins combining to form glycated tissue, which is inflexible, leading to wrinkles and skin sagging. The only ingredient that can actively fight Glycation and prevent it is Carnosine, a molecule naturally produced by our body and whose production declines with stress and age. Carnosine is one of the new revolutionary components of our Black Pearl Serum.
The Black Pearl precious Lifting Serum contains several incredible key ingredients to fight skin aging and its signs:
Black pearl extract, that has anti-ageing, regenerating and moisturizing properties
Carnosine, a revolutionary antioxidant, anti-glycation ingredient that also stimulates the synthesis of collagen
Palmitoyl Pentapeptide, to enhance collagen's synthesis
Alga extract, for a tensor effect
Caffein, to stimulate the microcirculation
Vitamin A, to stimulate cell growth, counteract skin-aging process and to improve the appearance of UV damaged skin
Vitamin C, a natural antioxidant that repairs the damage caused by daily stress and air pollution
Vitamin E, to tone and moisturize the skin
Hyaluronic Acid, to improve skin suppleness
Panthenol, anti-inflammatory and moisturizing
Saccharide Isomerate, to soothen and moisturize the skin.
The Black Pearl Cream exclusive natural active ingredients are:
Black Pearl Extracts: a luxurious powder with anti-aging, anti-inflammatory and cooling properties
Sodium Hyaluronate, whose film helps preserve the skin's suppleness, elasticity and tone
Natural Flash Tensing Agent, to immediately lift the skin while visibly decreasing the wrinkles in depth; makes the skin look immediately younger and smoother
Collagen Synthesis Stimulating Peptide: a small peptide that diminishes all types of wrinkles while firming and moisturizing the skin
Plantago Extracts from Ribwort Plantain, organically cultivated in the Swiss Alps; it stimulates the synthesis of collagen
Photo reflecting agents to confer radiance to the complexion by reflecting the light.
The Black Pearl Precious Lifting Cream immediately lifts the skin and smoothens away the signs of ageing. With its precious active ingredients it nourishes and replenishes the skin while improving its firmness day after day. This exclusive anti-age cream is also paraben free, propylene glycol free and allergen free fragrance.
The synergies between the Black Pearl Precious Lifting Serum and cream, provide you with an immediate lifting and regenerating effect while actively acting day after day against ageing sings and fighting the skin ageing process.
Shop Helenere Black Pearl Precious Lifting Serum and Cream: www.shop.illyssia./black-pearl
For more information on our exclusive product lines contact us: contact@illyssia.